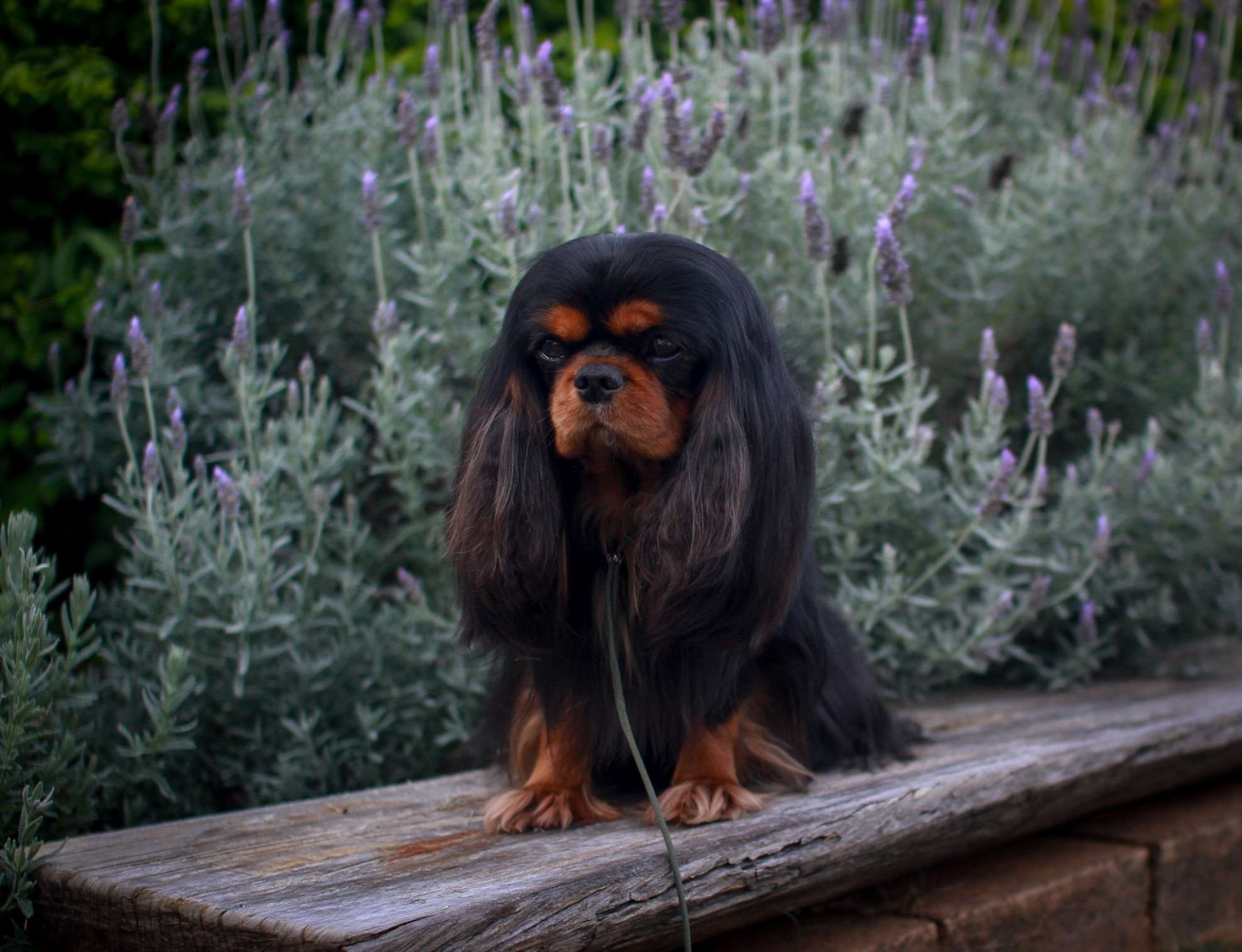 Rabymar Midnight Oil (IMP UK)
Gender: Male
Call name: Alfie
Coat: Black & Tan
Owner: Mrs L M Lewis
Breeder: Mrs L M Lewis 'Fredricos'
Handler: Mrs L M Lewis
The most " special " and photogenic of them all is our beloved 'Alfie' resulted from a carefully planned mating of a blenheim dam (daughter of one of Australia's most influential Cavaliers 'Aust. Champion Cobbetts Cockney Rebel (IMP UK)' ) to the son of one of UK's most influential wholecolour Cavalier, 'Rabymar Waltzing Darkie'.
Alfie has been very lightly shown as a youngster. In that time he achieved:
Best Black & Tan in Show and Best Head in Show at 2019 Queensland Cavalier King Charles Spaniel Specialty Show under Mr Raymond Paterson 'Cabrook' (previously Phrenchy in the U.K.)
Cardiologist Certified Clear - 2021
Ophthalmologist Certified Clear - 2019
DNA Clear for:
Dry Eye/Curly Coat Syndrome:
Episodic Falling; and
Degenerative Myelopathy
Alfie is a proven sire and is available at stud with a signed stud contract to approved ANKC health tested bitches.
Fresh Chilled and Frozen Semen available upon request
Rabymar Midnight Oil (IMP UK)

Black & Tan

Rabymar Waltzing Darkie

Black & Tan

Celxo Painted Brave (UK)

Ruby

Toby lived until he was 16 years and 9 months of age. His daughter Rabymar Romancing The Stone lived until she was two weeks shy of her 17th birthday.

English Champion

Fontelania Dancing Brave

Ruby

Buckny Midnight of Celxo

Black & Tan

Our Highland Princess At Rabymar

Black & Tan

English Champion

Rheinvelt Ringold Von Salador

Gloria's Red Sunset

Rabymar Aphrodite

Alleys Celtic Prince

English Champion

Rheinvelt Ringold Von Salador

Gloria's Red Sunset

Rabymar Lavender Box

Tri Colour

English Champion

Pamedna Fan-TC

Tri Colour

Monalee Dolly Daydream At Rabymar

Edenridge Material Girl

Blenheim

Australian Champion

Cobbets Cockney Rebel (IMP UK)

Blenheim

Cobbets Dizzy Rascal (UK)

Maibee Montrose

Blenheim

Cobbets Dizzy Doris

Blenheim

Cobbets Lula Tullulah (UK)

English Champion

Aranel Cosmic

Cobbets Honey Bee

Edenridge Strike A Pose

Elfking Against All Odds

Blenheim

Australian Champion

Cobbets Cockney Rebel (IMP UK)

Blenheim

Elfking Chatterbox

Elfking House of Tudor

Kringleholme Acclaim

Elfking Tudor Romance